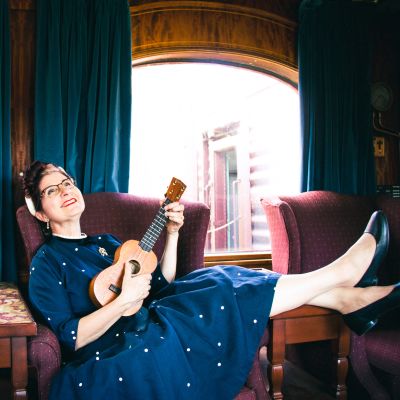 About
It all started with a vintage suitcase and pair of red shoes.
Beth Portman is a storyteller, presenting her personal perspective on life through original lyrics and engaging music. Inspired by the musical styles of the early to mid-20th century, Portman's transportive music has been described as clever, touching and sassy. In addition to strumming her ukulele she creatively incorporates percussion into her performances using suitcases, beaded purses and her heeled shoes. When not performing solo or as a duo with her guitarist, she performs with her band, The Good Find and has released two recordings, Lovin' and Take a Trip. The later recording inspired Portman to create the train themed show Take a Trip: A Musical Journey Capitol Theatre at Fort Edmonton Park in 2016. For Portman's solo performances she includes her 'luggage looper' into the mix to record and build rhythmic layers using her suitcases and their contents. The added percussion enriches her original and standard songs, vocals, ukulele and guitar work. It's a contemporary twist on her vintage vibe sound that's creative, playful and in the moment. For 2020 Portman created a curbside concert called Under the Blue Skies. Performed on a picnic blanket along with her 'basket looper', Portman entertains all ages bringing her vintage-inspired music to communities.
Highlights
Music type:
Original Music
What this Artist plays most of the time
Appeals most (but not limited) to:
Primary demographic is age 40+ but appeals to all ages and lovers of the vintage sound. Suitable for for intimate venues, music clubs, festivals and soft seat theatres.
Top Venues Performed/Exhibited *
SkirtsAFire Festival
2020/02
The Blue Chair Cafe
2019/10
Secret Streetcar Concerts
2019/07
* Unverified
Activity
Events booked with Stagehand
30
Upcoming Events
No upcoming events
Availability
Availability is open for 2020-2021 but will depend on dates and the type of performance(solo, duo or band) format requested. During the 2020 pandemic Portman has created a curbside solo concert called 'Under the Blue Skies' and is available for bookings in the Edmonton region.