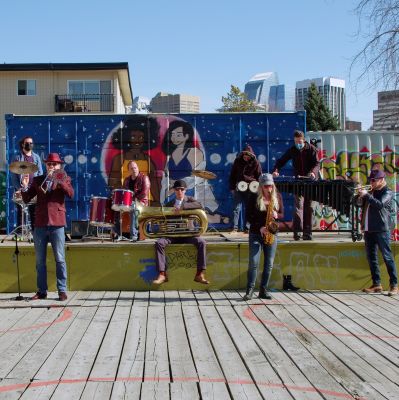 Delirium Street Party Brass
About
Unique Covid-friendly outdoor street party brass band. Accessible and danceable. Percussion and vocals. Deployable anywhere with our battery amp for vocals.
New 2021 Covid-Friendly professional edition! The best horn players in town, the best percussionists, unique arrangements and great accessibility. You have not seen anything like this, but check out other "New Age Brass Bands" for a sense of what it is. Our new 2021 videos on YouTube are "You & Me" and "Doghouse". Designed for the street. We know outdoor music is king in the waning time of the pandemic, as the vaccines free us from a year of silence. So, we are quite sure you want a band designed for the outdoors. Building on the ancient New Orleans traditions, but re-imagined for Calgary, there is nothing like this in the world. Delirium was formed in 2012. Inspired by the evolving "riot jazz" brass bands (e.g. The Soul Rebels, The Dirty Dozen Brass Band, The Youngblood Brass Band ) the Calgary based musicians wanted to leave most of the jazz influence behind and push the genre further into ska, punk and party rock, focusing on high energy music like No Doubt and The Clash and strong female vocals. Until 2017 the band was headlined by Margo Laing, with increasing emotional appeal through her expressive songwriting, voice, and stage presence, the album "House of the Rising Sun" highlights this era. In 2018 the band reformed for the Banff wedding season with more drums, more horns, and two vocalists: Kevin Waites, and Margo's kid Jace. New works include "Stroke Therapy", a healing jam song, and covers of Taylor Swift, the Cat Empire, and Queen. The 2021 waning pandemic version has more percussion, more vocalists, and a level of precision that will impress. With the brass and percussion instrumentation, and no guitars or keyboards, these covers are completely different yet intimately familiar, with a street-style dance vibe. Songs on Spotify or Apple Music. The new 2021 videos on Youtube show the current vocal and percussion focus, recorded at Studio D and shot at ContainR.
Highlights
Music type:
Cover Music
What this Artist plays most of the time
Appeals most (but not limited) to:
Horn and percussion fans, people who want to be outdoors, people who want to be impressed by something new
Top Venues Performed/Exhibited *
Calgary Jazz Festival
2021/08
* Unverified
Activity
Events booked with Stagehand
3
Upcoming Events
No upcoming events
Availability
Summer 2022 in Alberta. Fall 2022 Alberta and a BC tour. Winter 2022/2023 for indoor events. 2023 Ontario tour.