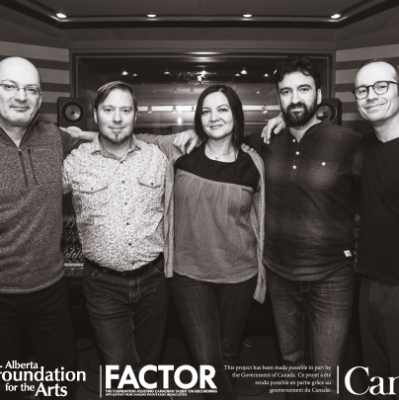 About
A performance described as Intense, edgy and dreamy, Notas de 4 and singer Silvia Temis will bring you a very personal touch of Flamenco/Latin inspired music
Silvia Temis based in Calgary Alberta is the leader singer of a quarted Notas de 4 and a duet with Flamenco guitar player Benjamin Barrile in Toronto. In both collaborations Silvia fuses Latin jazz, Cuban and Flamenco rhythmns. Born in Mexico, educated in architecture and design, Silvia discovered flamenco designing a flamenco show to then start taking flamenco dancing and then found a fascination for flamenco singing (cante). She further developed her singing with instruction from prominent flamenco singers (cantaores) in Spain and Canada. While in Calgary Silvia performs with Notas de 4 as the front woman. Also she has performed with the local flamenco community in the city like Holly Blazina flamenco guitarist. She has also performed at EXPO Latino Festival 2015 with Fiona Malena Ensemble as well as Salero Calo Flamenco group. She has been one of the organizers of the Calgary Flamenco Festival as well as an active member in the community. While in Toronto Silvia has performed with Esmeralda Enrique Dance Company at Hispanic Fiesta in Toronto this September 2017, dancer Carmen Romero and duet with Benjamin Barrile flamenco guitarist. She has performed at the Festival Flamenco du Montreal in 2013 and 2014. Silvia was a recipient of the Artist Entrepreneur program at Canada's Music Incubator 2016 at Coalition Music. She continues to work passionately in bringing a genuine and personal approach to her singing. Silvia's mission is to propel the collaboration between flamenco artists around Canada with musicians from different styles of music.
Highlights
Music type:
Original Music
What this Artist plays most of the time
Appeals most (but not limited) to:
Age 30+ Latin, Spanish and Canadian, flamenco dance, intense and edgy performance.
Top Venues Performed/Exhibited *
TEDxCalgary Talks Rozsa Centre
2018/11
* Unverified
Activity
Events booked with Stagehand
1
Upcoming Events
No upcoming events
Availability
Based in Calgary, releasing album and touring in 2020