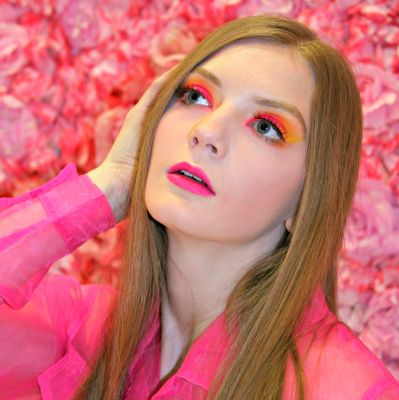 About
"Remember when Serena Ryder was gaining international acclaim? That's where Lappa is right now with her unique take on folk rock, she's on the precipice of becoming a household, Western Canadian name"
Rebecca Lappa is an Edmonton based singer songwriter, who delivers alternative music with folk undertones through a pop vein. Her story based compositions filled with catchy melodies, limitless vocal delivery, and image filled lyrics captured Lappa three 2019 Edmonton Music Awards nominations, winning Singer Songwriter Recording of the Year. Working with manager Mandy Wheelwright ( Be Good Tanyas, Frazey Ford), Lappa is using an Edmonton Arts Council grant to record her most personal songs to date with producer Louise Burns at 604 Records Studio. Since winning a Canadian Folk Music Award in 2015, Lappa has demonstrated that she is a star on the rise through electric live performances, 20K social media followers and charting nationally on campus radio.  Touring across Canada since the release of her JSR FACTOR funded full length record "Reckless Heart", she's entranced audiences several times at the Edmonton Folk Music Festival (2014, 2018), Calgary Folk Festival (2013, 2015), Canmore Folk Festival (2014) the Ottawa Blues Festival (2016, 2017) and Alberta House during two Grey Cup (2010, 2018) Lappa is honoured to have opened for The Crash Test Dummies, Jenn Grant, Digging Roots, Basia Bulat, Buffy Sainte-Marie, Mike Plume, Maria Dunn, Amy Bishop, Reirnwolf, Lissie and Leeroy Stagger and has 3 CD's available through the Edmonton Public Library Capital City Records. Born in San Francisco but Canadian to the core, Lappa brings fire to every performance with her red hair and red guitar. Her songs crackle with originality, blaze with passion and glow with honest emotions. She delivers a lively show as a soloist, duo or her band, The Revelry. In summer 2019, Lappa released her "Unfilitered" EP and performed at the Beaumont Blues Festival, Whitecourt Music Festival, Taste of Calgary, Mardi Gras Festival, Edmonton Rock Music Festival, won the Roy Songwriting Award at the St. Albert Rotary Music Festival and participated in the 2019 Canadian Songwriter Challenge at the Audio Department.  In 2018, she was a Top 10 finalist in the My United Way Voice contest, chosen as Top 100 in the 2018 CBC Searchlight, received the $10K Bell Media Prize to attend Canada's Music Incubator in Toronto, selected for the EPL Capital City Records, showcased at the Canadian Organization of Campus Activities in Fredericton, won 1st place in the Ship and Anchor Song Contest, received an Honourable Mention in the 2018 Canadian Songwriting Competition, performed at the Edmonton Folk Music Festival, showcased at the Arts Touring Alliance of Alberta and attended the SOCAN Songhouse at BOW 2018 in Kelowna. In 2018, Lappa was also commissioned to write an anthem for the No Stone Left Alone Memorial Foundation. In December 2017, Lappa released her Spirit" EP produced by the late great Barry Allen. "Spirit" featured the song Valiant of Vimy that won the Lieutenant Governor of Alberta's Spirit of Vimy contest and a life altering trip to Vimy Ridge. According to Earshot, the EP reached #1 on Edmonton's CJSR Top 30, Kamloop's CFBX Roots chart, Victoria's CFUV Folk/Roots/Blues chart and it peaked at #6 on The National Top 10 Folk/Roots/Blues chart. Lappa was honoured to perform "Valiant of Vimy" at the Government House for Lt.-Gov. Louis Mitchell and on Remembrance Day at the Global TV televised Butterdome Ceremony for 5000 people. "Spirit" earned Lappa a 2018 Edmonton Music Awards nomination for Folk/Roots Artist of the Year, was selected for the Alberta Music Album Promotion Project and as part of the Edmonton Public Library's Capital City Record Project. At age 18 Lappa received a JSR Factor grant to record the CD "Reckless Heart". This album earned Juno winning producer, Russell Broom, a WCMA nomination. Debuting at # 1 on Edmonton's CJSR's Top 30 and #10 on iTunes Singer/Songwriter Album chart in November 2016, according to Earshot "Reckless Heart" charted in the Top 30 on CKCU, CFBX and CJSF campus stations plus 5 weeks on Thunder Bay's CILU Top 10 Folk/Roots/Blues Chart. Two songs on the CD received songwriting recognition: "Crawl"- won the 2015 Calgary Folk Festival Songwriting Contest and received an Honourable Mention in the 2018 Canadian Songwriting Competition and "Bonnie and Clyde"- was a semi- finalist in the 2017 International Songwriting Contest. Highlights of her other past accomplishments include: 5 time Canadian Folk Music Awards nominee (2011, 2012, 2013, 2014, 2015), winning "Young Performer of the Year" at the 2015 CFMAs, winning "Adult Alternative Recording of the Year" at the 2015 Edmonton Music Awards. Lappa won the CN Youth Artist Award at the Mayor's Celebration of the Arts in 2014. She has won First Place in the Calgary Folk Festival/ Ship and Anchor Songwriting contest three times (2013, 2015, 2018)and Third Place twice (2014, 2019). She won the Shine My Demo contest at the SongRise 2015 conference for her song "Piece of Me" and was a Top 6 finalist in the 2012 All-Albertan Song contest for her song "Welcome to Wayne". Always improving her songcraft, Lappa has been selected for many songwriting camps such as: the Songwriters Association of Canada Master Class Series with Andrew Alan in 2020, the 2019 Canadian Songwriter Challenge at the Audio Department. the SOCAN Songcamp Monday in Toronto in 2018, SOCAN Songhouse at both BreakOut West 2017 and 2018, the Open Chair for the Songwriters Association of Canada Songworks Camp in Edmonton in Aug/16, the Prairie Winter Songwriter Retreat in Winnipeg in Feb/16. She's collaborated with notable songwriters such as Darryl James (The Strumbellas), Amy Kirkpatrick, Japeth Ryan Raw, Kellie Loder, Guilermo Subauste, Nuela Charles, Jay Semko, Mariel Buckley, Chloe Albert, Dana Blayone, Rob Heath, Beth Portman, Byran Finlay, Lexi Strate, Lynn Tessari, Doug Folkins, and with producers Dan Davidson, Davor Vulama, Troy Sampson, Tomas Brabec and B. Morales. Lappa has begun Topline writing for EDM Artists around the world. Lappa has written music for Cymba Music Publishing in Toronto and wedding songs for Hitched Creations in Edmonton. Lappa has worked as a studio vocalist for Paul Arnusch of the Peak Performance Project winning band, Wet Secrets and One Ton Studios in Victoria, BC. Her music has been synched in Shaw TV's Dinner by the Minute TV program, All That You Love Will Be Carried Away movie, and A Nous Deux Canada film for Quebec Tourism. In May 2019, she was the vocalist for the end credits song "Brave" in the movie "One Voice" about Gay Straight Alliance produced by Victoria School. Lappa is a graduate of MacEwan University's music program with a Diploma in Composition. She gives back to the community by volunteering at the Stollery Children's Hospital under the supervision of the Music Therapist, and playing music at the Ronald McDonald House. She also teaches voice, piano and songwriting in Edmonton and St. Albert. In addition to teaching songwriting to hundreds of children at local schools, for the past 5 years, she has been a songwriting mentor for elementary school children at the Jubilee Auditorium during Culture Days. While Rebecca Lappa studied music at MacEwan University, she was the recipient of four scholarships: MacEwan Entrance Scholarship, Victor-Osten Performing Arts Award, Edmontone Studio Award, and RBC MacEwan Officers Endowment. In September 2020, Lappa will begin a two year Music Therapy program at Capilano University. Lappa performs as a soloist or with her 3 piece band, The Revelry. The band is made up of MacEwan University trained musicians: Madi Myhre on bass and Peter Joshua on drums. Since forming in 2016, Rebecca and The Revelry have performed at over 150 events. Lappa has toured extensively to promote several albums and build her fan base: Prairie Express Tour (SK/AB) in June/17, Spirit of Adventure Tour (SK/MB/ON) in Feb-May/18, Off The Rails Tour (ON/QC) combined with Via Rail's Artist on Board program in July/18, Chasing The Sun Tour (AB/BC) in Aug/18, Unfiltered Summer Tour (AB/BC) in June-Aug/19.
Highlights
Music type:
Original Music
What this Artist plays most of the time
Genre:
Singer/Songwriter
Folk
Pop
Appeals most (but not limited) to:
Ages 15-65, female and male
Top Venues Performed/Exhibited *
Festival Place, Sherwood Park, Opener for The Crash Test Dummies
2018/09
Edmonton Folk Music Festival, Edmonton
2018/08
Seven Music Festival, St. Albert
2018/07
* Unverified
Activity
Events booked with Stagehand
7
Upcoming Events
No upcoming events
Availability
I live in Edmonton so I can easily make it to most parts of Alberta for shows on Thursday to Sunday with short notice. I can play shows within an hour of Edmonton 7 days a week.