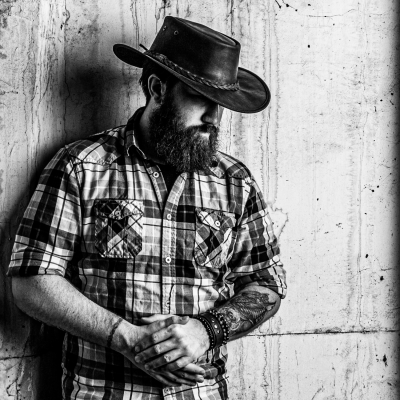 About
Chris Strei is a country singer/songwriter whose style has been compared with Chris Stapleton and Bob Dylan. Chris draws on his own life experiences for inspiration in his music. With compositions influenced by blues, bluegrass and also some elements of hard rock and metal, Chris's songs tell stories with a relatable point of view. It's fair to say he's not the only one who deals with these situations and themes. Since the end of 2017, Chris has come a long way in a short time: Following an opportunity to open for the Juno-nominated band The Trews in December, he embraced a philosophy that you miss 100% of the shots you don't take. In June 2018, Chris embarked on his first cross-Canada BlackBird Tour from Ontario to Alberta with a return trip to Alberta in June 2019; he accepted an opportunity to perform alongside Juno-nominated folk and pop singer Dayna Manning in August; and in September he cracked the Top 25 in The Shot, Canada's Premiere Singing Competition. Chris has also been blessed with appearances at Canadian Music Week, Hugh's Room Live, became a staple in the final 5 years of Canterbury Folk Fest in Ingersoll. In July 2019, Chris released his full-length album, "The Moonshine" (produced by Iain McNally and mixed by Paul Intson and Iain McNally) to a sold out venue at Riffs Music Lounge in Woodstock, Ontario. Featuring Iain McNally on guitars, keys, percussion, banjo, tres, and mandolin, Rick Roach on drums as well as backup vocals with Jay Riehl and Janna Leduc of Thorn and Roses, Paul Intson on upright bass, Steve O'Connor on keys. The Moonshine is a collection of 10 dynamic songs that touch on various topics and styles, from the sweet commitment of "Love You Anyhow," to the date-night glow of a dashboard light on the title's title track "Moonshine", the bittersweet goodbye of "Timbercreek", and the gritty, fan-favourite "Prison Bound Man". "The Moonshine" is available on ChrisStrei.com!
Highlights
Music type:
Original Music
What this Artist plays most of the time
Genre:
Country
Rock
Singer/Songwriter
Appeals most (but not limited) to:
Country fans from early 20's to late 50's.
Top Venues Performed/Exhibited *
The Painted Lady - Toronto, On. (Canadian Music Week 2019)
2019/05
Lethbridge, Ab. Canada Day
2019/07
Canterbury Folk Fest Main Stage - Ingersoll, On.
2019/07
* Unverified
Activity
Events booked with Stagehand
1
Upcoming Events
No upcoming events